If you would like to join Niagara Aquatics, please fill out the Registration form on the website and once complete, email [email protected].  We will then send you a link to sign up to our team website.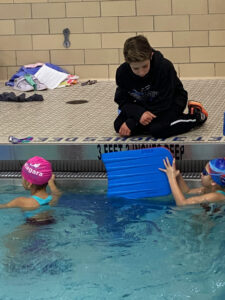 Swimming Lessons Level 1 
Level one focuses on getting the swimmer comfortable in the water.
The swimmer will start the program using a floatation device for their comfort.
The following skills will be taught:
  How to enter and exit the water correctly and safely
  How to be an independent swimmer with a floatation device
  Place face into the water and blow bubbles
  Float on both back and front
  Front glide and back glide
  Roll from front to back
  Jump into the water with assistance
  Submerge and retrieve an object in chest deep water
  Properly use and kick with a kickboard
We will gradually lessen the amount of floatation that is needed until the swimmer is not dependent on a floatation device
Swimming Lessons Level 2 
When the swimmer has mastered the Level 1 skills, they will move to Level 2.
 Level 2 is for swimmers who can swim independently without a floatation device for support.
The following skills will be taught:
Basic freestyle stroke
  Backstroke
  Breaststroke
  How to tread water
  Sitting dive from the pool deck
  Kneeling dive from the pool deck
  Standing dive from the pool deck
  Jumping into the water from the start block
  Continue to build on breathing/face in the water
Swim Team Prep
When the swimmer has mastered the Level 1 and 2 skills, they will move onto our competitive Swim Team Prep
The following Techniques will be taught:
  Freestyle
  Backstroke
 Breaststroke
Butterfly
  How to dive from the starting block
  Streamlining
  Flip turns
  Starts and finishes
  Endurance building
  Rules for competition