Danielle AndalorA
Head Coach, Owner of Niagara Aquatics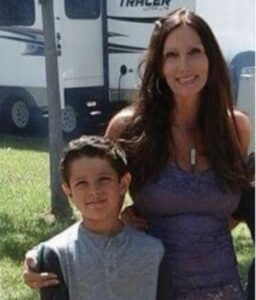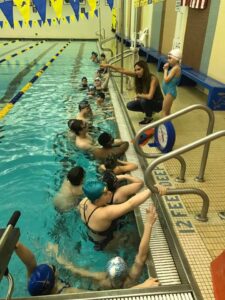 Danielle started swimming at the Boys and Girls Club in Jamestown, after nearly drowning in a neighborhood pool.  Since then, swimming and water safety have been her passion and Danielle has taught hundreds of children how to swim since the age of 16.  Danielle also swam competitively at the age group level with Star Swimming.  She won numerous awards, held records at Jamestown High School and was captain of her college swim team at the University of Rochester, where she had a full academic scholarship.  Since graduating from college, Danielle coached from 1996 to 2003 and assisted with the formation of the STAR Swim Club program in Jamestown.  In 2004, Danielle moved to Clarence to work as a Manufacturing Engineering Group Leader at Greatbatch.  She was an Assistant Coach at the Clarence Swim Club for 3 years before giving birth to her son, Joseph.  Danielle got her MBA at St. Bonaventure University and speaks fluent Italian.  She worked as a Sr. Quality Aerospace Engineer for Avox, clearing Chemical Oxygen Generators for aircraft manufacturers such as Airbus and Boeing.  She is the owner of Buffalo One Stop Shop, buffaloonestopshop.com, and President & Security Coordinator of J.A. Transport, Inc., jatransportinc.com, an International and Domestic Shipping Company that ships air, ground and ocean freight.  After a long break, Danielle returned to the pool and is now training with Nickel City Splash and loves the comradery of being part of a team again.  Danielle is the Junior Coach of the Niagara Swimming LSC.  She also has a love for golf and was the Class A Club Champion at the Lockport Town & Country Club.
NATHAN TUHOLSKI
Head Coach, Niagara Aquatics Club
Nathan has been swimming since he was very young, but started onto the competitive scene when he was 12 years old. Nathan started at BAAC and quickly progressed there. Once he joined his high school team his sophomore year, he quickly became a key part in their success. Winning numerous top 4 finishes in multiple divisions, as well as being MVP on the team twice, Nathan also led his team as a team captain. Nathan went to college at Buffalo State, where he swam his freshman year ending as a top 10 finisher in his division in relays and individual events. He did not end up continuing swimming, however, in order to pursue his passion of coaching. Nathan is currently studying Biology and Environmental Science at Buffalo State. Nathan has taught swim lessons ever since he was 14 years old, starting at BAAC and then the Michael Phelps Swim School, where he eventually became the Coach of the Recreational team, the Coach of the 10 and under team at Velocity, as well as an on deck supervisor at Michael Phelps Swim School.
NICK GARLOCK
Junior Team Coach
Nick has been involved with competitive swimming and teaching swim lessons since he was a junior in high school. He quickly came to love the sport of swimming and all the benefits it has for the body. He has spent many of his college years around the water for work, both as a lifeguard and a swim coach for the local YMCA teams. He likes to focus on fundamentals to ensure that his swimmers get the most from each stroke they take through the water.

Nick is a recent graduate from Daemen College and received his Doctorate of Physical Therapy degree. He will use his education as well as his previous experience to benefit his swimmers the best that he can. Nick recently joined the team but looks forward to passing on the love of swimming to the many swimmers he'll work with.
Aside from swimming, Nick enjoys playing lacrosse and spending quality time with friends and family.
KAREN BEISLER
Assistant Coach, Niagara Aquatics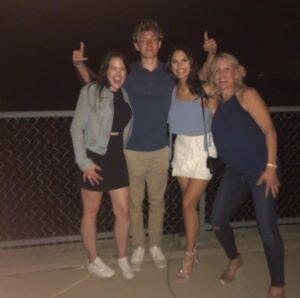 Karen started swimming at a small summer club in Plum Boro, PA.  At 12 she joined the New Ken YMCA and went on to win several state titles and compete in the finals of YMCA Nationals. Karen attended the University of Pittsburgh where she graduated Magna Cum Laude with a BS in Information Sciences and Mathematics and she obtained her MBA from the University at Buffalo In 2000, she learned about the UB – USA Masters Swim Team, Nickel City Splash, and was drawn back to the pool. Karen holds multiple Masters records in the Niagara District. Her coaching career began when she offered to help Danielle with her team, and it has been an incredible experience and she enjoys seeing the kids learn and progress.  Karen is the IT Director for 1ST FINANCIAL INC, a mortgage banking company specializing in mortgages and refinances in FL, MD, TX, DC, DE, VA and PA.
Kelly & Brian Spurlock
Assistant Swim Team Coaches, Niagara Aquatics Club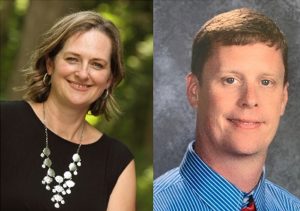 Kelly Spurlock started her swimming career when she was in middle school and was a diver.  They needed a fourth for a relay one day so Kelly filled in and has been swimming since then.  At one point, Kelly held every single record for swimming for her High School, including diving, except one, the 500 free! She also swam for Clarence Swim Club.  Kelly was a 16 time All American swimmer at the University of Rochester. She was inducted into the Hall of Fame at Akron High School and at the University of Rochester.  Kelly earned a BA in Religion and a BS in Environmental Science while at the University of Rochester and went on to get her masters at the University of South Carolina in Chemical Oceanography.  But swimming drew her back in after her masters work was complete and she ended up coaching and teaching at the college level at the University of the South and Wells College,
where she coached several All-Americans. Kelly also coached at the High School level for 6 years in both Virginia and California when she was also teaching high school math.  She coached several USA swim teams – one in South Carolina and then locally. Her and her husband Brian, have 3 boys who are all on the Niagara Aquatics Club Swim Team. Currently, Kelly is Branch Director for HUNT Real Estate overseeing 2 offices.  She is also a team manager for Destination Imagination.
Brian Spurlock grew up swimming on a USA swim team in Tennessee.  He swam in his first swim meet when he was 4 years old.  He swam in college at the University of the South, where he was the all-time lead scorer and held 16 school records. He graduated with both a BA in psychology and a BS in Chemistry.  He coached High School teams in Florida, Virginia, and most recently at Canisius High School for 10 years. Brian coached 15 All Americans and won 5 State Titles.  Canisius ranked in the Top 25 in the Country for 5 different years, under his direction. Brian earned his masters at Canisius College and is currently is a teacher at Canisius High School where he teaches Chemistry, Biology and AP Psychology.
 Allie Bashor
   Senior & Junior Group Assistant / LTS Instructor, Niagara Aquatics Club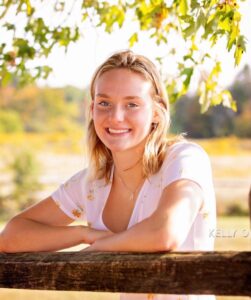 Allie Bashor is a Senior at Starpoint High School.  She is a 10 time school record holder at Starpoint High School Varsity Swimming and Diving team.  She is a 3 time NY State Qualifider, USA Swimming Futures Qualifier and a current Senior Team member of STAR Swimming.  Allie has committed to swim Divison 1 in the fall of 2021 at Long Island University, in Brooklyn.  She has coached UB Swim Camp and Clinics for the past 3 years and also volunteers at Star Swimming with the Exploring Group.  Her favorite stroke is butterfly and her favorite thing about swimming is racing and the friendships she makes along the way.
MELISSA MOORE
   Adaptive Program Coordinator, Niagara Aquatics Club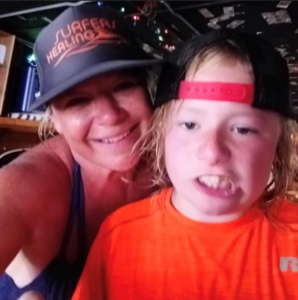 Melissa started swim lessons at a very young age.  She was described by her parents as a fish. During high school she opted to teach swim lessons to fellow students with special needs. Her son Oliver was born in Florida in 2008 and diagnosed with Autism in 2011. From the moment Ollie dipped his toes into the ocean he was hooked.  Ollie has been referred to as "Ollie the Otter" for his unique swims style, excitement and ease in the water.  Children with Autism are often drawn to water sources. Sadly drowning is the #1 cause of accidental death in this population due to the obsession. Melissa has made her mission to ensure as many children and young adults learn swimming skills that could potentially be life saving.
SHANNON BELOTE
 LTS Instructor, Niagara Aquatics Club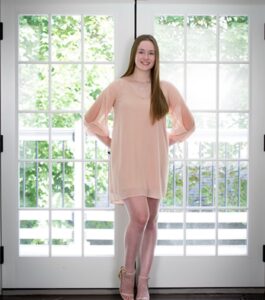 Shannon graduated from Williamsville East High School and will be attending the University of Tampa in the fall majoring in Allied Health. Shannon has been swimming since she was three years old and I'm currently on the senior team for STAR swimming. I'm also a state and Speedo team qualifier and Backstroke is my favorite stroke to race. I'm very passionate about swimming and I am excited to help kids learn and grow within the sport.
amy collins
 LTS Instructor, Niagara Aquatics Club
Amy started swimming at age 3 in a neighbors pool. Her Dad was a lifeguard in the Army and a Master Diver. Her love of swimming just grew from there. She competed and swam year round on the YMCA of Lockport, USA swimming under Bob Pauley of the NCCC Sunbirds and Lockport High School. She took several years away from the pool, but enjoyed teaching her own children to swim. After the YMCA built a brand new facility, she was drawn back to the water and started swimming again regularly. She became a Red Cross certified Lifeguard with CPR for Professional Rescuers, AED, First Aid and Emergency Oxygen in 2019. Amy also worked as a Swim Instructor at the Y and has experience with all stages of instruction and abilities.  She loves to see the kids grow and learn.  Amy is very passionate about water safety and the life skill of swimming.  Amy works as a Supervisor of Business Sales Operations at Verizon where she manages a team of Coordinators across the east coast. She is thrilled to be a part of the Niagara Aquatics team.
Sarah Mullane
LTS & Adaptive Program Instructor, Niagara Aquatics Club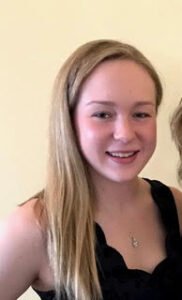 Sarah has been swimming competitively for 12 years.   She started swimming when she was really young and always loved being in the water, so she joined her elementary school swim team at Desales Catholic School when she was 8 years old.  From there, she continued to swim at Starpoint High School. Currently, she is a student at SUNY Brockport where she is studying political science and history, with aspirations of becoming an attorney.
Sarah is also on the Brockport swim team.   Sarah taught swimming lessons at the YWCA summer camp at Lockport High School and has also been a lifeguard.   This is her second year with Niagara Aquatics Club and she was so excited to start teaching kids her favorite sport!
Nick Preskop
LTS & Adaptive Instructor, Niagara Aquatics Club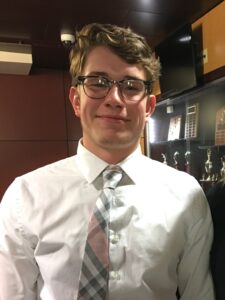 Nick is a Senior at Lockport High school and a 3rd year Varsity Swimmer and has swam the program for going on 6 years. Nick taught lessons under Kevin Clark (teacher/coach), and is currently a lifeguard at LCP.  He also guarded for the Newman  swim league.
Nick has swam competitively for years now and had a 10th finish overall and a top 5 class finish at the NYS Sectional meet last year. Swimming is something that Nick is very passionate about and his goal this year is to help our swimmers improve, love, and succeed in the sport.
Kim Harrington
LTS Instructor, Niagara Aquatics Club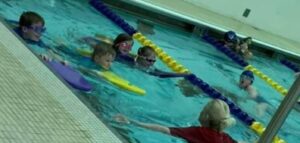 Kim Harrington started swimming at the age of 3 at the Niagara Falls YMCA.  At age 14, she worked as a swim instructor and competed in synchronized swimming. Since then, she has continued to be involved in aquatics and has tried to emulate the values her swimming instructor instilled in her.  Kim's education includes a BA in education from Fredonia and a MS from SUC at Buffalo.  She taught school at Newfance High School for 32 years and is presently working as an AIS instructor at Holy Ghost in Niagara Falls.  She also taught swimming for several years.
Kim is certified as an American Red Cross Lifeguard and Water Swimming Instructor.  She enjoys working as a lifeguard and swim instructor with Niagara because of the teams dedication to helping young people improve their swim skills and helping them grow into young adults.
REAGAN LILLEY
LTS Instructor, Niagara Aquatics Club
Reagan started taking swim lessons at the YMCA at the age of 4 and then started swimming on the recreational swim team at Michael Phelps' swim school at the age of 9. She swam for the DeSales swim team from 2nd to 8th grade and continued her swimming career in high school. She is now a senior at Mount Saint Mary Academy. Outside of her high school team, she also competes for Niagara Aquatics Club. Reagan is a certified lifeguard and she is looking forward to being a learn-to-swim instructor.
Janet FEDERSPIEL
On-Leave (Director of Learn to Swim and Adaptive Learn to Swim)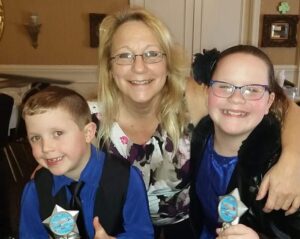 Janet grew up in Newfane, with 12 brothers and sisters, she has 2 grown children and is grandmother to 4.  Janet has always loved the water but since Newfane did not have a pool to swim in back when she was growing up, she never officially learned how to swim until she suffered a severe back injury and underwent 5 back surgeries.  At that point, Janet took up swimming.  She started all of her grandchildren swimming when they were 6 months old and she found all of her grandchildren loved the water the same way she did.  Each of her grandchildren went on to swim competitively.
Janet then started teaching others how to swim and has since taught 100s of children how to swim.  Janet is known as Miss Janet through out the Niagara swim community.  Since her grandchildren were swimming competitively, she went on to becoming a swim official and holds her Certifications in level 1 and level 2.  She is also a Certified  Water Safety Instructor. She joined the Niagara Aquatics team in January 2020 as an assistant Coach.  She also coaches and officiates for the Desales Catholic School swim team for the Neumann Catholic League.  Janet has 2 certifications as a swim instructor.